Digital Computer Solutions, LLC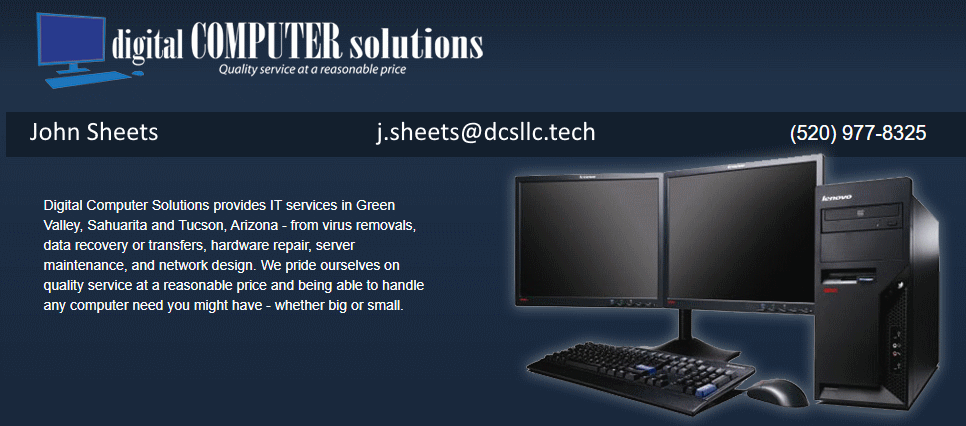 Contact: John Sheets, Owner/IT Technician
Phone: 520-977-8325
Email: J.Sheets@dcsllc.tech
Website: http://www.DcsLLC.tech
Located in Sahuarita, AZ

Serving Southern Arizona including, Sahuarita, Green Valley, Tubac, Rio Rico, and the Tucson area.

15+ Years experience
7+ Years here in the Green Valley/Sahuarita Community.

Services include:
PC Tune-Ups and Virus Removal
Computer Upgrades
Custom Built Computers
Home and Office Networking
PC and Apple Specialist
Installation and Repair
Hardware and Software Diagnostics
Preventive Computer Maintenance
Home Theater Installs
TV Mounts and Cable Management
Smart Home Automaton and Lighting
Alexa, Google Home, and Apple Home Integration
Smart Phone Setup (Apple and Android)
Phillips Hue Smart Lighting
IP Camera Security System Installs
Car Audio
Home Theater EQ
Your one-stop shop for all of your electronic needs.

Call for a free estimate.

Visit the Testimonials page on our website!