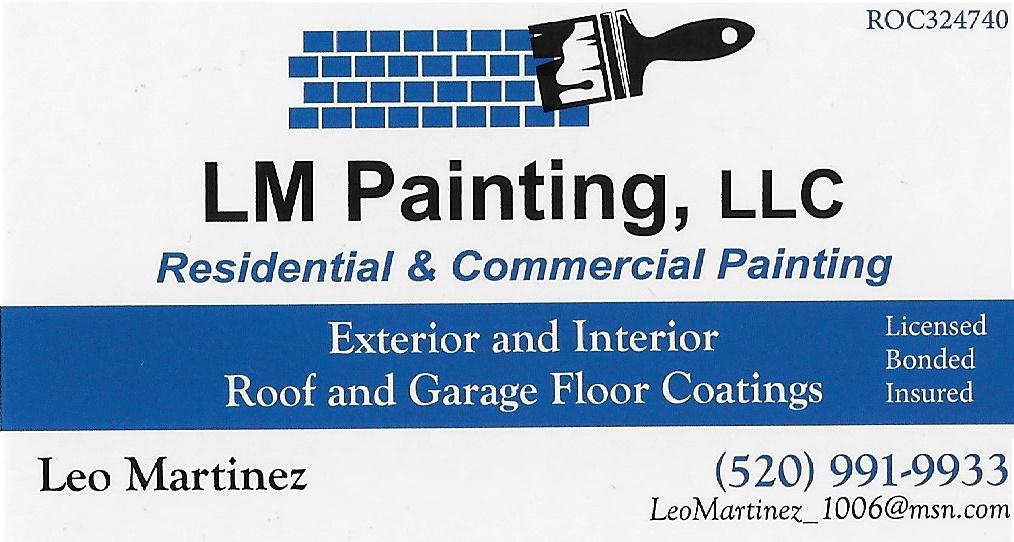 Contact
: Leo Martinez
Phone
: 520-991-9933
Email
:
leomartinez_1006@msn.com
 - leomartinez(
underscore
)1006@msn.com
Located in Tucson, AZ
Quality, Value & Service at its Best
AZROC 324740 CR34
Bonded and Insured
Family-owned business offering Custom Exterior/Interior Home Painting and Industrial Premium Epoxy Garage Floor Coatings
Additional Services
:  Wrought Iron Painting, Roof Coating, Staining & Varnishing, and Stucco/Drywall Repair Work
Referrals
:  Our exceptional Workmanship & Customer Service have given us the opportunity to paint over 1400 repaint homes in Quail Creek in the past 10 years.  Painting Permits are handled by our staff.  References available upon request.
Warranties
:  Lifetime Product Warranty using Premium Products from Dunn Edwards Paints.  Our workmanship services offer a 5-year warranty
BBB Accredited Business
Call Leo Martinez 520-991-9933 for a FREE CONSULTATION
Current Specials
:  $1950 for Exterior Home Painting Project (up to 1400 sq. ft).  Interior Home Painting Packages:  20% off COMPLETE Interior Home Painting
Accepting Business and Personal Checks, Cashiers Checks, Cash