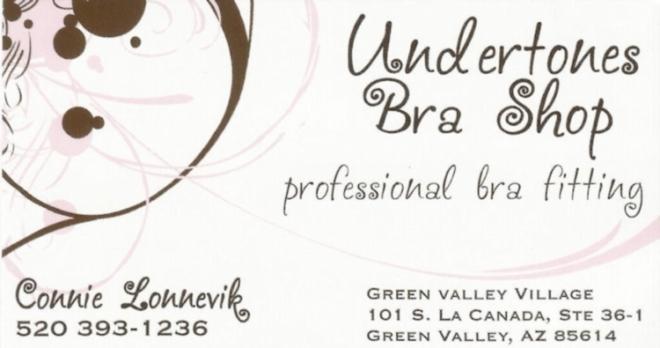 Contact: Connie Lonnevik
Phone: 520-393-1236
Address: 101 S. La Canada, Ste 36-1, Green Valley, AZ, USA, 85614
Website: undertonesbrashop.com
Facebook: facebook.com/undertonesbrashop/

BRA BOUTIQUE - PROFESSIONAL BRA FITTING

Did you know that 8 out of 10 women are wearing the wrong bra?

We cater to all women, but especially those difficult-to-fit gals. We offer personal, professional, one-on-one bra fittings. If you have a hard time finding a bra that doesn't feel and look perfect, then you owe it to yourself to come in and get pampered. No pressure, and it can actually be fun!

Types of Bras available:
Sports
Mastectomy
T-shirt
Coobies
Strapless
and more!
SIZES AA - N! 

PLUS nighties, shapewear, robes, and gift items

If you are a first time customer, mention this ad for a 15% discount on your first purchase.

HOURS: Due to Covid, the current hours are:  TUES/WED/THURS 10AM-1PM OR CALL FOR AN APPOINTMENT 520-393-1236

Located in the GREEN VALLEY VILLAGE MALL STE 36-1 (next to the Shoe Repair)