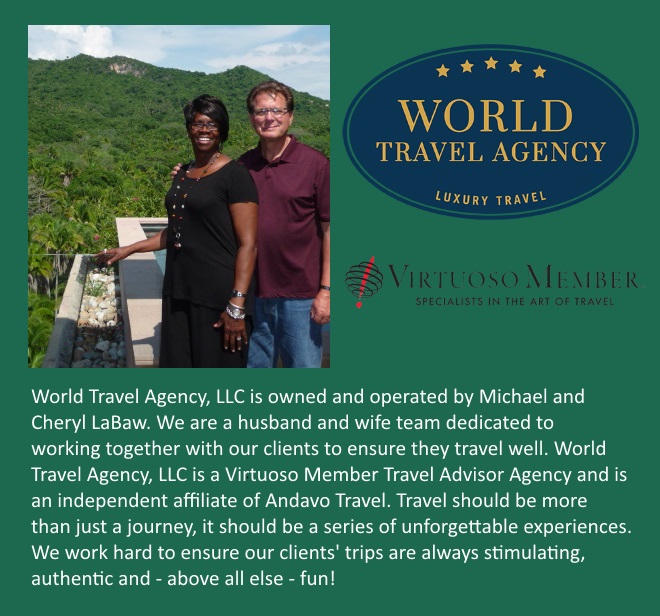 Contact: Michael and Cheryl LaBaw
Phone: 520-526-9364
Email: mlabaw@travelwta.com |  clabaw@travelwta.com
Website: https://www.travelwta.com/
Facebook: https://www.facebook.com/worldtravelagency15/
Located in Quail Creek
We provide value at no cost. We are paid by travel vendors and often add amenities, discounts, show specials and much more that you simply can't find online.
We can save you time. We provide research, support, and advice. Let us handle the heavy lifting for you!
We offer advice and assistance. Let us help with vendor and itinerary alternatives, passports and visas, medical device and medication issues, packing, airline baggage rules, air travel, deviations, travel insurance, pre/post-vacation vendor issues, refunds, disputes, suite and seat selection and much more.
We are inquisitive and resourceful. Our goal is to understand your travel style, needs, and objectives in order to enhance and enrich your travel experiences.
We are Virtuoso Travel Advisors. Through the Virtuoso global travel network of top-notch travel suppliers, we provide expertise and connections that provide more value for your travel budget and travel offers that you simply won't find anywhere else.
We created the agency to combine our passion for travel with our desire to assist others enhance the value of their travel experiences. We are resolute in totally understanding your travel goals, objectives and budget. Let us help you organize and plan your travel. We have personal knowledge of destinations around the world and always do our utmost to provide 100% customer satisfaction!  
<