;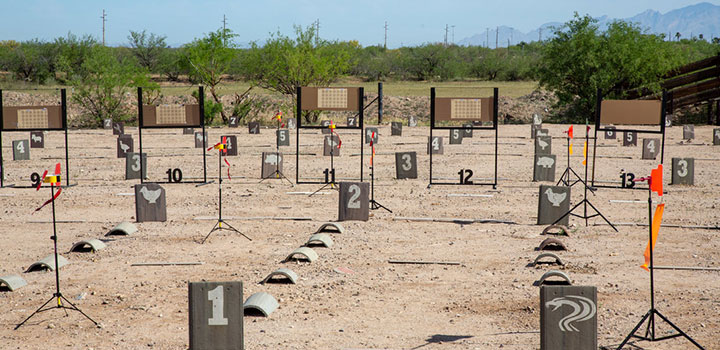 Q. What is the Quail Creek Air Gun Club?
A. It is a Club, for Quail Creek Residents who have an interest in Shooting Sports. The Club maintains a 20 lane shooting range, located minutes from the Madera Club House. This is the largest range dedicated solely to air gun shooting in the US. No firearms are allowed on the range.
Q. What kind of shooting?
A. Quail Creek Air Gun Club's focus is on Air Rifle and Air Pistol, target shooting. We shoot paper and steel silhouette targets at distances from 10 to 100 yards. We have organized shooting events on the 2nd and 4th Saturdays, from October through April. Casual shooting 7 days a week, year-round. Our Saguaro Classic Invitational, held in late March, is the premier event of the season, attracting shooters from several western states.
Q. Is this a safe sport, so close to the community?
A. Yes, it definitely is. The range of air gun pellets is limited. Pellet design is such that they lose velocity quickly and an earthen berm has been constructed to stop pellets at the end of the range. Safety is our major concern while at the range. When shooters are using the range, at least one member is responsible for range safety, making sure that shooters are adhering to range safety procedures. Failure to follow the rules could result in loss of range privileges.
Q. Does the club offer training for new members?
A. Yes we do. We have members with years of experience who will provide one on one coaching for new shooters. This includes all aspects of proper gun handling and setup. Air gun shooting is quite different than firearm shooting and requires different techniques. We can provide new shooters an opportunity to shoot different types of air guns, for a better understanding of what is available and what suits them best. We recommend that new members do this before purchasing any type of equipment.
Q. Would a former firearm shooter enjoy shooting air guns?
A. Without a doubt! We have law enforcement officers, several avid hunters, former military members, and many who were shooting enthusiasts, in their former life. None of them knew a thing about air guns, except their old Daisy Red Ryder. Now, they shoot several times a week, enjoying the challenge and improving their skills. No one misses the noise and recoil of most firearms.
Q. Do you have ladies in the club?
A. We have several ladies in the club, and some very good shooters among them!
Q. Where is the range location?
A. The Quail Creek Air Gun Club Range is located at 896 N. Campbell Rd. Sahuarita, AZ. It is open to Members 365 days a year, the exceptions being workdays for range maintenance. The range has received major renovations since 2018. Extending the range to 100 yards, new steel target stands, shade over the shooting benches, and new steel shooting benches being some of the new features.
Q. Where can we learn more about the club?
A. Any morning, Monday through Friday, there will be several members at the range, that would be happy to show you around. Our Website,
qcagc.com
, and our Facebook Page,
Quail Creek Air Gun Club
are also excellent sources of information.
Website:
https://qcagc.com/
Contact
:
Greg Garman
gpagarman@outlook.com
(307) 286-1394