Quail Creek Pro Shop
1490 N Quail Range Loop, #2
Green Valley, AZ 85614
Head Golf Professional: Joel Jaress, Joel.Jaress@Robson.com
Golf Course Design: Ken Kavanaugh
Phone Numbers
Pro Shop: 520-393-5802
Golf Course Conditions (Frost Delay): 520-393-5817 (recording)
Chelsea Reservation System: 520-838-8124 (Residents Only)
Course Ranger: 520-260-7157
Hours of Operation
May – 6:00 AM to 5:00 PM
June – 6:00 AM to 2:00 PM
QC Desert Duffers President Mike Senatra (far left) congratulated Roger Shuman, Low Gross Champion (36) and Tino Gagliardi, Low Net Champion ( 29 ) center of photo and Quail Creek Head Professional, Joel Jaress congratulated Super Senior Winner, Gary LaBarre far right. Photo courtesy of Thom Sharples.
Golf Associations
Resident Benefit, Robson Golf Link Program
As a resident of a Robson Resort Community, you can play golf at all seven Robson Resort Communities across Arizona and Texas at the low resident rate.* Get your golf buddies and take a road trip! Enjoy great weather and championship golf while you tee it up at all of the Robson Resort Golf Clubs. Expect the home course treatment because you always have the home course honors at any Robson Resort Community.

*Tee times cannot be reserved on the Chelsea System and must be made by phone or in person and will be based on space available.
Golf Course Map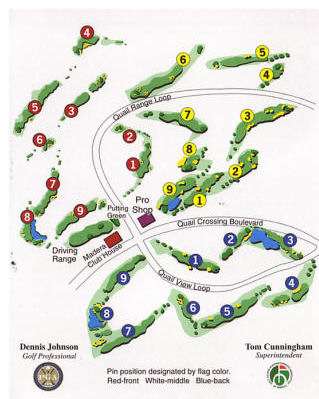 Coyote Course - Yellow
Quail Course - Blue
Roadrunner Course - Red